Shop signage for Nicola's Dog Grooming, Station Rd Redcar (formerly Trish's).
September 25th 2014
Nicola's Dog Grooming
Nicola has been a long term customer of ours and when she found out we were doing signage, asked us if we could replace her shop sign. We used the existing boards and created a sign in keeping with her business cards and work wear colour schemes. Another happy customer.
Large format canvas prints - Vision for Education.
September 22nd 2014
Vision for Education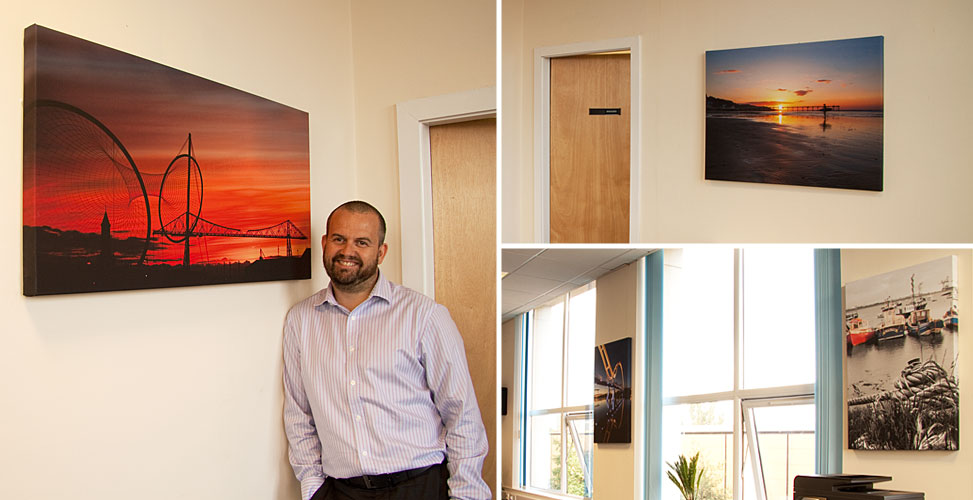 Vision for Education approached us to produce what turned out to be five large format canvas prints to display in their offices in Middlesbrough. The print sizes included 40x30 inches, 40x20 inches and 36x24 inches.
Trifold leaflets, business cards and 8 page A7 folded leaflets.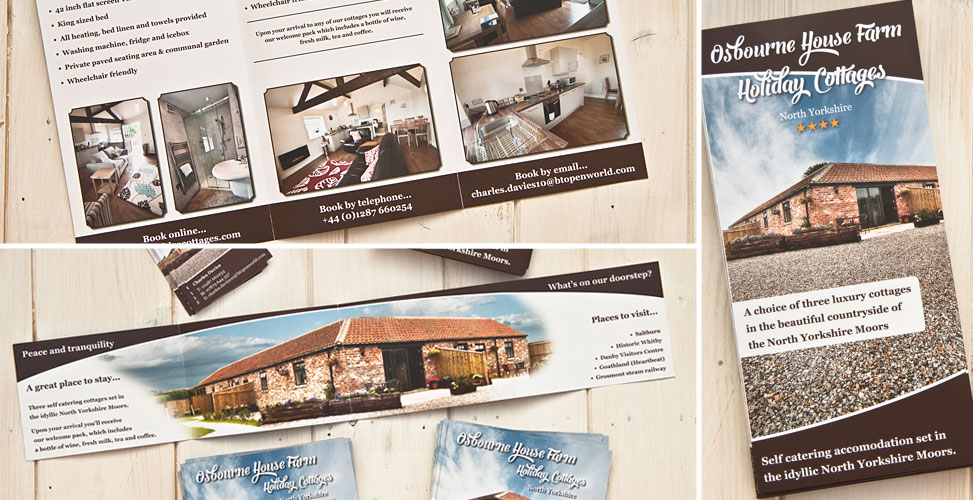 Our new clients from Osbourne House Holiday Cottages asked to see some sample leaflets that we'd done in the past. They were so impressed with what we showed them they ordered 5000 6 page DL leaflets, 5000 8 page A7 landscape folded leaflets, 1000 business cards and we were also asked to do the photography. We were beaten by the weather for the outdoor photos so we added a blue sky with white clouds using PhotoShop which really enhanced the photographs. Needless to say, the client was very happy with the end result.
Logo design, business cards, duplicate purchase pads and sales pads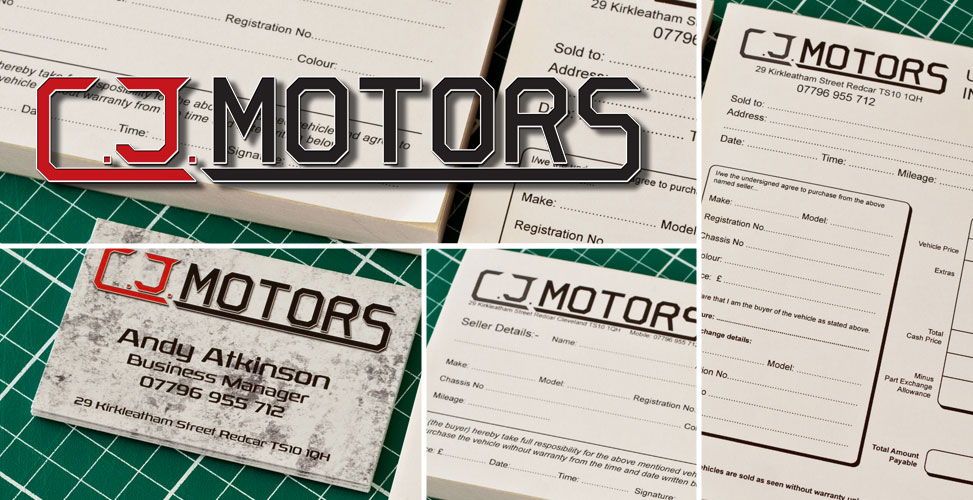 A new client came to us this week wanting logo design, 2500 business cards, 1000 duplicate sales pads and 1000 purchase pads. The logo was designed to be used in various applications including a black only variant to be used on the duplicate pads.
2 metre pop up banner for Expedite Administration Services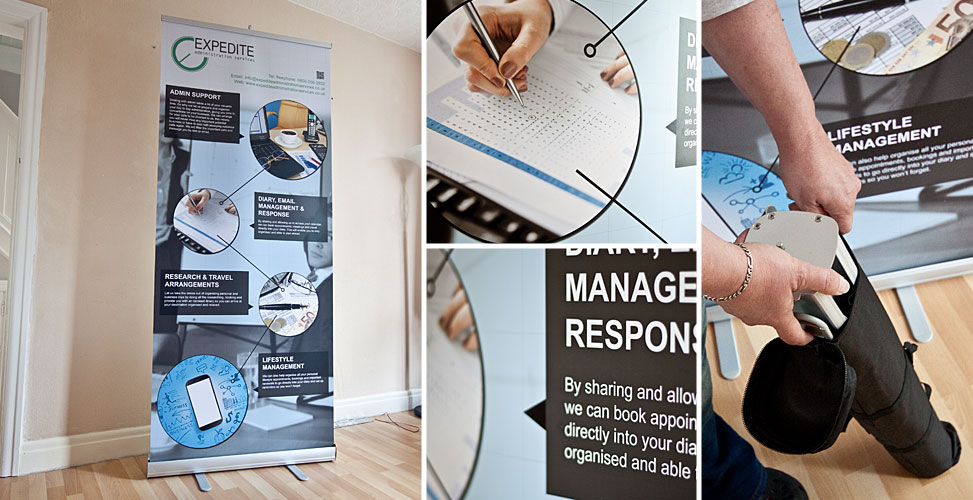 This week we've one of the design jobs we've been working on is this pop up banner. The brief was to match the branding of their website which I believe we've been succesful in doing. We were lucky enough to be able to work with great stock images too which always adds to create a professional piece of work.
If you want to find out more about Expedite Administration Services you can visit them here...
www.expediteadministrationservices.co.uk
Signage for Blink Eyewear in Redcar's High Street
May 19th 2014
Blink Eyewear (18 Redcar High Street TS10 3DU)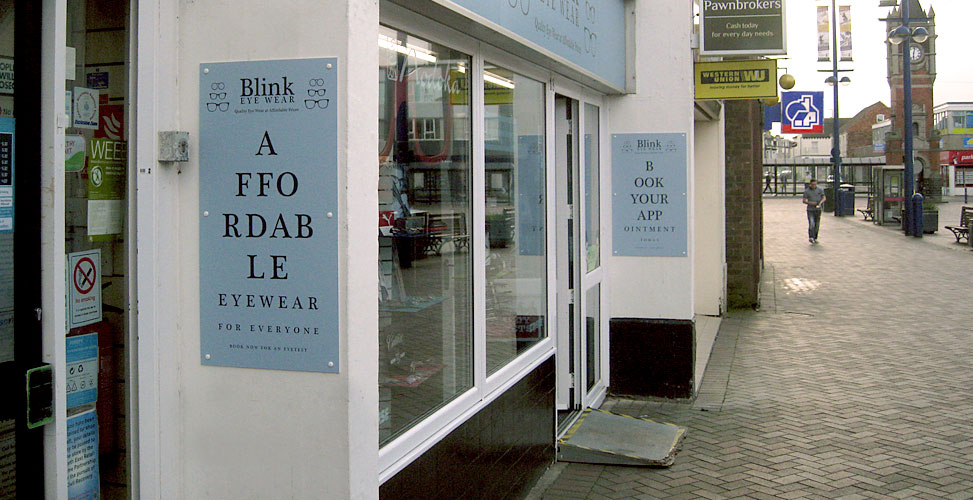 We were approached by John Chapman (owner of Blink Eyewear) to design, print and fit two signs for the shop. The shop is set back and is difficult to see as you're walking through the High Street so these signs were designed to help people find the shop. We gave the signage a bit of an "eye chart" look to underline the fact that the sign relates to an opticians.
Find out more about Blink Eyewear...
https://www.facebook.com/pages/Blink-Eye-Wear-Ltd/127742447282864?fref=ts
20x16 Inch Canvas Print
May 13th 2014
Victoria Johnson Photography
We are honoured to work with yet another amazing photographer. Victoria Johnson creates beautiful images of children and uses subtle colours in her backgrounds and an amazing array of props. We've been so lucky on this occasion to have permission to showcase this image. For this piece, we chose to use a distressed edge effect on the canvas..
See more of Victoria's amazing photography on Facebook...
https://www.facebook.com/victoriajohnsonphotography?fref=ts
40x30 Inch Canvas Print
April 23rd 2014
Jon Cooney Photography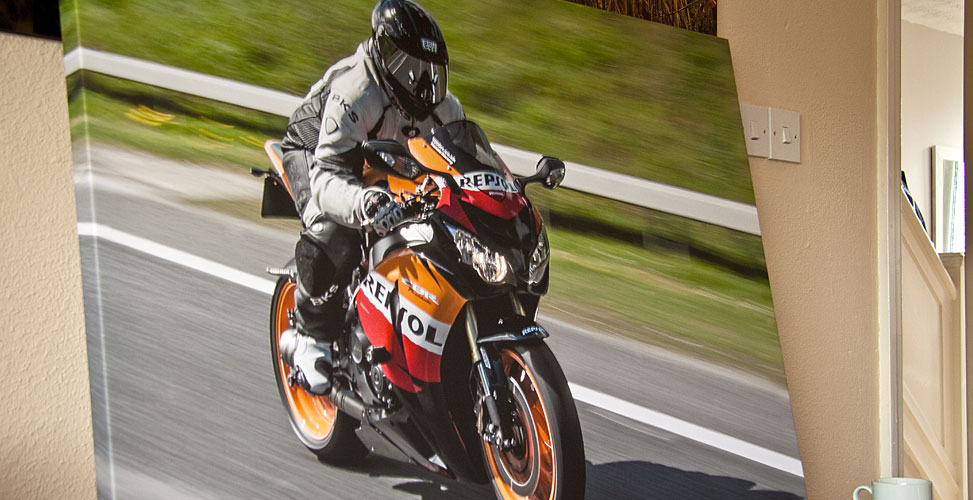 Jon Cooney is a great local photographer who is currently studying photography at Cleveland College of Art & Design. He uses us often for our photo printing services and canvas printing. This is his latest work that we printed and framed, a 40x30 inch canvas printed with long lasting pigment inks and mounted onto pine stretcher bars. And very nice it is too!
You can see more of Jons work on Facebook...
https://www.facebook.com/JonCooneyPhotography?fref=ts
5000 Business Cards
April 7th 2014
Nicola's Dog Grooming (Formerly Trish's)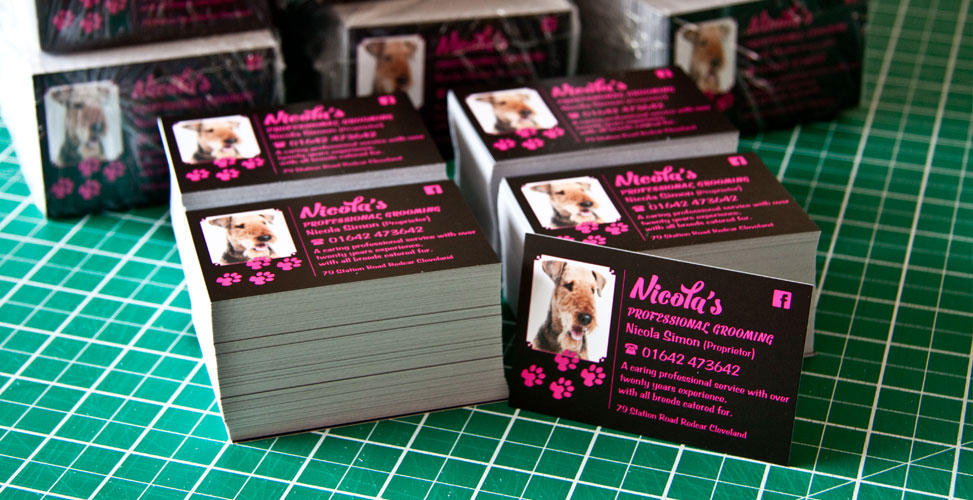 Nicola is a repeat customer of ours. She likes to keep us on our toes and have us redesign her business cards each time she renews them. This time Nicola asked for black cards with a dash of magenta. With an order of 5000 business cards this time round, I think it's going to be a while before we do a redesign again.
Find out more about Nicolas dog grooming on Facebook...
https://www.facebook.com/TrishsProfessionalDogGrooming?ref=profile
A7 Laminated Cards
April 5th 2014
Andrea Caven (artist)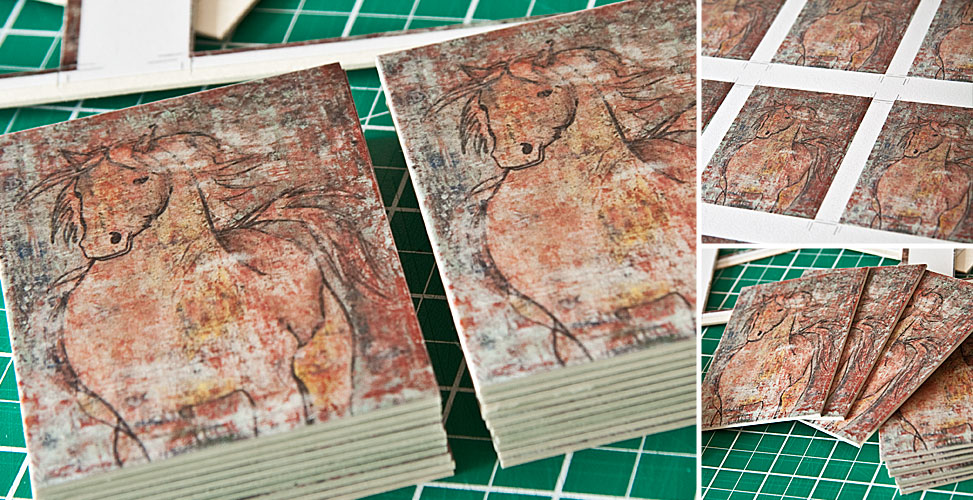 Today we created these A7 art cards. We photographed the original artwork, then resized in PhotoShop, printed onto Epson matte paper, laminated with a matte laminate and mounted onto 1.5mm acid free board. These cards are durable and will withstand a lot of handling. the laminate protects the prints from moisture, scratches and most importantly UV light.
Find out more about our photo prints on Facebook...
https://www.facebook.com/Red43PhotoPrintsRedcar?ref=hl
30x20 inch Canvas Print
March 21st 2014
Colin Falcon PixVault Photography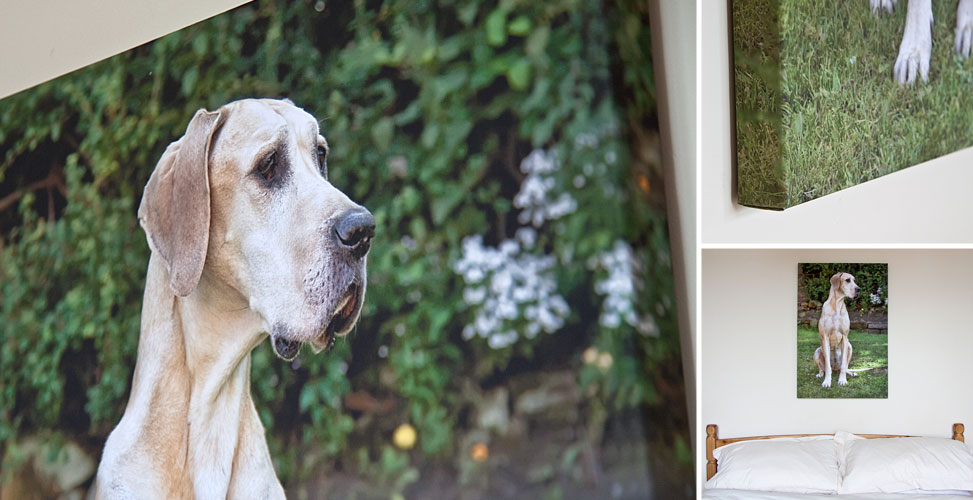 We can supply canvas prints in a large range of sizes. The biggest we've printed so far is 75x34 inch! Most popular sixes are 20x16s and 30x20s although our personal favourite is the 40x30 inch size. We use genuine Epson Ultrachrome inks for acurate colour reproduction and long lasting protection against fading from UV light. Our set upalso produces excellent monotone results!
If you'd like to see more of our work with canvas, have a peek at our Facebook page here...
https://www.facebook.com/Red43PhotoPrintsRedcar?ref=hl